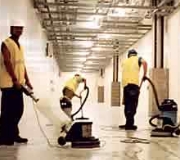 After builders cleaning is preferable for those who just got their home built or renovated and need their house to be cleaned off with all the remaining left-outs and remains of wood, paint, steel pieces and many such things.
The left-outs of paints on the floor and left-outs of wood spread here and there is highly irritating and makes the new renovated house look like an old one from inside. And the worst part is, you cannot do such type of cleaning perfectly on your own without having all the required appliances and equipments of cleaning.
After builders cleaning service can be hired from our agency at one of the most competitive prices in London. With so many cleaning packages offered by our company, customers can choose one according to the amount of cleaning required and the budget in hand. Once hired, our professionally trained cleaners will come on place in proper uniform in order to perform the cleaning task for you.
Thus, you can expect complete and professional cleaning of your house and that too in no time. We bring our own equipments and appliances to perform the cleaning. In addition, all the employees are fully insured by the agency itself so that no blame comes on the customer in case, the employee meets an accident while working in the house. With eco-friendly products an detergents used, you can expect no harm caused to any item of your house.
Be it the cleaning task post renovation or move-in to a new house, after builders cleaning takes care of all the small and big cleaning needs required in the house. With such a swift and complete execution on offer by professionally trained employees; all for a few bucks is not a bad deal.
In addition, various agencies offer free cleaning of cupboards, windows, dry-cleaning of curtains, fridge and stove cleaning, dusting off and wiping of walls, garage cleaning, patio ceasing and thorough washing of kitchen appliances for free when you hire their employees for a cleaning task. Thus, getting more than hundred percent in that very same amount paid works totally in favor of the customer. Moreover, you get to live in a complete germ-free house after the cleaning process is over with all the eco-friendly products used in the process.