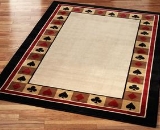 Living in a clean house is everyone's desire. A clean house is said to give you a relaxed piece of mind and makes you feel much comfortable. When it is about rugs, they greatly define the elegance of a house. These are said to be a great investment and thus, their regular maintenance is essential.
Rugs are a commonly found on the floors of houses and offices. These are quite liked by people to increase the charm of the house. And that is the reason they also prefer to hire professional cleaning services to keep them maintained. Rugs catch dust and stains quite easily. As a result, bacteria deposits on its surface and regular cleaning is required. And this is not an easy task that can be undertaken easily by inexperienced people. It requires some professional cleaners to do the task and that is where the role of our rug cleaning specialists come into play.
Rugs require cleaning from time to time, not just to maintain their charm and look like new always but also to stay healthy, keeping the bacteria and dust away. Moreover, the regular dust and stains further lead to discoloration, color instability and odor problems. However, these problems are easily tackled by our professionals.
They inspect the level of discoloring or stains over the rug and then decide the level of cleaning required on the basis of their inspection. After the inspection, the rug undergoes the deep vacuum cleaning so as to get rid of the dust and other small harmful particles. Just after the deep vacuum cleaning step is over, the stains are individually treated using the most advanced equipments and eco-friendly materials. In addition, special grooming tools are also brought in use to restore the correct piles position and the great looks of the rug.
Within the process, all the bad smells are removed as well and a special type of rug deodorizer is used for fragrance. Moreover, for those who want the cleaned results stay with the rug for a longer period of time, there comes a "scotchgard" stain protector treatment that prevents stain occurrence for a longer period of time and also keeps the insects away. And all this can be availed at a competitive price.
Moreover, most of the agencies do not waste time in taking down the rug or transporting it to their office, cleaning it and putting it back. They simply perform the whole cleaning process within your premises. This saves a lot of time and you can expect the cleaning process to be done within an hour or two.