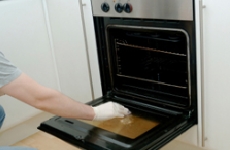 Many people question as to what is the need to hire professional cleaning service for a kitchen appliance. But it is essential to note that oven is an important appliance in the kitchen and its proper working is required everyday in cooking.
Thus, proper and professional cleaning service is required to ensure that the oven is cleaned deeply so that no problem comes in its working. Most of the ovens stop functioning properly because they are not cleaned on regular basis. If done so, any branded or good quality oven would function without any hassle for years. Moreover, dirty ovens are more unhygienic and the same transfers onto the food cooked in it.
In London, oven is brought a lot in use as people do not have much time to cook overtime. They come back from work and prefer to re-heat the food in the oven and eat. Thus, proper functioning of the oven is quite necessary for them.
Minimum call out charge 50GBP
The professionalized oven cleaning service is cent-percent caustic-free and environment friendly. The products used are eco-friendly that makes it a completely non-hazardous cleaning process that is safe for children, senior citizens and pets keeping them away from any kind of allergy. The oven is cleaned in a complete hygienic, safe and fume-free way by the agency's trained and professional cleaners with years of experience. The service ensures there is no grease marks, fat, carbon deposits and burn-marks left on the oven's surface after the cleaning process is done. The skilled cleaners perform the cleaning task with a total professional approach and pay full attention to the details specified to him.
If you find their service unsatisfactory, you can complain to the agency and they either offer a re-service by a different professional cleaner or give full refund of the amount paid. That is the extent of confidence they have on their service. And the cleaning task is finished in no time at all. They do not take your oven to their office to perform the task.
Instead, they clean the appliance within your home there and then within a few hours only. This saves a lot of time and keeps your satisfied when the whole cleaning process is performed in front of your eyes. At the end, you can expect your oven in a complete pristine condition and be glad that you hired a cleaning service that was worth the amount paid for it.