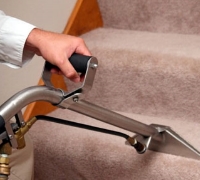 Tenancy Cleaners London provides professional carpet cleaning services in Finchley, N3 London. People often wonder why it is important to use professional carpet cleaning services. The carpet cleaning solution is specifically designed to make your carpets stainless and dirt-free. Our carpet cleaners in Finchley, London use the hot water to make your carpets look as good as new. The idea is simple – high temperature steaming kills off 98% of the bacteria, removes dirt, dust and stains.
People usually are unaware of the fact that these bacteria cause several diseases like fever, asthma and many different types of allergies. Thus, hot water and eco-friendly detergents are used by the experts to fight them. Carpet cleaning done by our professionals will prolong the lifespan of you carpets and rugs. It is a much better decision to hire professional carpet cleaner than buying a new carpet.
Our cleaning company send the experts to your home with all the equipments they need and the inconvenience of transportation is smartly avoided. Moreover, the steam cleaning method does a big favour to you by drying up the carpet up to 95% and saves you the trouble of waiting for hours and hours for the water to evaporate. The machines we use are provided by Prochem and extract the moisture from the fibers of your carpet.
Clients About us:
You are fantastic. I love your services. I can't imagine hiring another company to take care of my carpets and upholstery.
- Robin
I will never book with a cleaning company different than yours. You have exactly what I was looking for - low prices and high quality services. The carpet cleaning procedure, in particular, left me speechless.
- Natasha
There are a whole lot of reasons that are in favour of carpet cleaning services. No doubt it is a good investment but more than it, it is good for your health too. Living in unclean surroundings and conditions can only lead to diseases. Old or young, no one is safe in a house where carpets have bacteria written all over it. If a professional carpet cleaning service save you from infections isn't that a good deal? You decide!
Carpet Cleaning Finchley
Finchley is a district, located in the northern part of London. Geologically, Finchley is formed of three layers, which as a fact explains the high fertility of the soil within this part of London. Most of Finchley lays on a glacial moraine, skirted by a layer of gravel, and the underlying layer of clay.
The fertile soil has attracted many people to move into Finchley, forming three hamlets in the different corners of the area. In the present times, the ex hamlets, have formed the town centres of the contemporary London suburb.
When you first visit Finchley, there are few landmarks you simply should not miss. One of the symbols of the area is the old parish curch, St Mary's at Finchley, with is remarkable with the ornaments and drawings dating from 13th century. Another place that should not be missed is the large Victorian house, Avenue House, famous for its beauty.
In Finchley a visitor can observe the last farm in the area, which was used as a model of a dairy house, and later as a visitor attraction. The old Finchley's cinema is well known for being one of the oldest purpose-built cinemas in the UK.
The Finchley area importance is associated its open minded and non-racial attitude. A prove for this is the Sternberg Center for Judaism.