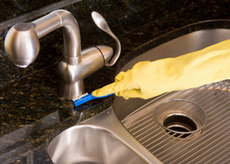 Deep Cleaning is one of those jobs which should be performed by trained and experienced professionals. This is a 100% guarantee that the final result will fully satisfy your cleaning requirements. However, choosing a cleaning company in Ealing, London isn't so easy, despite the fact that you need deep cleaning not more than once per year. We assure you that our team of deep cleaners in Ealing, London can meet your requirements – we pay special attention to every detail and clean every hidden space and appliance.
Many people refer to deep cleaning as spring cleaning and as you know, spring cleaning is a necessity for every home. Deep cleaning involves a number of services – pressure washing, cleaning of skirting boards, windows and window frames, cleaning appliances, de-liming and de-scaling the kitchen and bathroom tiles, etc.
Summing all that up, we can reach to the conclusion that deep cleaning covers every area of the house without any exceptions. Our cleaning agency in Ealing has been offering cleaning service for over 10 years and we can work with residents of the entire London area. By booking our services, you will win yourself a reliable and trustworthy cleaning team which will fulfill your cleaning tasks. Our cleaners are well trained and reference checked, so you don't have to worry about anything!
Clients About us:
Your deep cleaning services are perfect for giving my home a new fresh start once every couple of months.
- Laura
I always use your deep cleaning services before and after a celebration in my house. You know how to clean it best.
- Paul
Our deep cleaning service is charged by the hour and our cleaning teams are available seven days a week. Our services are very flexible and can fit into the tightest budgets, but the quality of the services is nothing than perfect. There isn't a job too big or too hard for our cleaners – we can handle the biggest properties and the biggest messes so don't hesitate to contact us.
Deep Cleaning Ealing
Ealing went through some significant changes in the 19th century, when the building of the Great Western Railway in the 1830s (part of which passed through Ealing) entailed the opening of a railway station on the Broadway in 1879. This was originally known as Haven Green. In the following decades, Ealing was largely rebuilt, having semi-detached houses designed specifically for the middle class.
Gas and electricity lines were built, along with better modes of transport, like horse buses and trains, in order to facilitate easier travelling to London, for work. In spite of the increasing infrastructure, Ealing was still considered to be the countryside.
The Ealing Broadway is a National Rail Line running from east to west, and also a London Underground Station in west London. West Ealing in today is under a century old.
In 1234 a hamlet named West Ealing, was later named Ealing Dean. An important road cutting through this area later came to be known as the Uxbridge Road, which was a thoroughfare for stage coaches in the 19th century. It also housed the 'Halfway House' pub, which was a stopping place for the London to Banbury and Oxford coach.
Between 1863 and 1965 Ealing was a local government district surrounding the town of Ealing. Later, a local health board was formed for the southern part of the Ealing parish of Middlesex, in 1863. Ten years later, the expanse of the board extended to the other parts of the parish as well