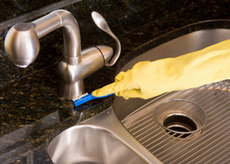 Deep Cleaning is one of those jobs which should be performed by trained and experienced professionals. This is a 100% guarantee that the final result will fully satisfy your cleaning requirements. However, choosing a cleaning company in Greenwich, London isn't so easy, despite the fact that you need deep cleaning not more than once per year. We assure you that our team of deep cleaners in Greenwich, London can meet your requirements – we pay special attention to every detail and clean every hidden space and appliance.
Many people refer to deep cleaning as spring cleaning and as you know, spring cleaning is a necessity for every home. Deep cleaning involves a number of services – pressure washing, cleaning of skirting boards, windows and window frames, cleaning appliances, de-liming and de-scaling the kitchen and bathroom tiles, etc.
Summing all that up, we can reach to the conclusion that deep cleaning covers every area of the house without any exceptions. Our cleaning agency in Greenwich has been offering cleaning service for over 10 years and we can work with residents of the entire London area. By booking our services, you will win yourself a reliable and trustworthy cleaning team which will fulfill your cleaning tasks. Our cleaners are well trained and reference checked, so you don't have to worry about anything!
Clients About us:
My flatmate and I are super happy with your deep cleaning services. We can take good care of it now that its cleaned in detail.
- Ellie
Your deep cleaning service is the best way to provide my house with ideal cleanness without any effort. It's amazing.
- Lee
Our deep cleaning service is charged by the hour and our cleaning teams are available seven days a week. Our services are very flexible and can fit into the tightest budgets, but the quality of the services is nothing than perfect. There isn't a job too big or too hard for our cleaners – we can handle the biggest properties and the biggest messes so don't hesitate to contact us.
Deep Cleaning Greenwich
There would be no one who would not have heard the word Greenwich or Greenwich Mena Time in their life time. Greenwich district in South London, England is a very popular district that is worth mentioning due to its popular maritime history. The Royal Borough of Greenwich houses Greenwich district and its post code district is SE 10. The Danish settlers named this district as Greenwich which literally means green place on the bay or a place near the mouth of a river.
The Cutty Sark site, the Trinity College of Music, The Old Royal Naval College, University of Greenwich, the Greenwich Millennium Village, Enderby's Wharf and the trinity Hospital almshouse are some of the best known places to visit along the riverfront in the Greenwich district. The Greenwich Great River Race is one of the added attractions for tourists who visit the district.
The Greenwich market is the most happening place where tourists will be able to shop for various local goods with Mondays and Tuesdays being holidays every week. The shops and the restaurants that are close by to the Greenwich market will be pen seven days a week.
If you would like to see some of the most ethnic and ancient Georgian and Victorian architecture in Greenwich, then visiting the town center will be the ideal option. The Greenwich railway line that connects Greenwich to London and the Docklands Light Railway are the two railway lines that cross Greenwich.