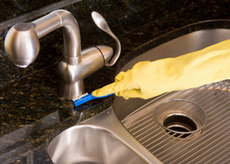 Deep Cleaning is one of those jobs which should be performed by trained and experienced professionals. This is a 100% guarantee that the final result will fully satisfy your cleaning requirements. However, choosing a cleaning company in Hampstead, London isn't so easy, despite the fact that you need deep cleaning not more than once per year. We assure you that our team of deep cleaners in Hampstead, London can meet your requirements – we pay special attention to every detail and clean every hidden space and appliance.
Many people refer to deep cleaning as spring cleaning and as you know, spring cleaning is a necessity for every home. Deep cleaning involves a number of services – pressure washing, cleaning of skirting boards, windows and window frames, cleaning appliances, de-liming and de-scaling the kitchen and bathroom tiles, etc.
Summing all that up, we can reach to the conclusion that deep cleaning covers every area of the house without any exceptions. Our cleaning agency in Hampstead has been offering cleaning service for over 10 years and we can work with residents of the entire London area. By booking our services, you will win yourself a reliable and trustworthy cleaning team which will fulfill your cleaning tasks. Our cleaners are well trained and reference checked, so you don't have to worry about anything!
Clients About us:
I didn't know that the deep cleaning services of this professional company are so effective. If I knew that, I would have booked them long ago.
- Albert
Ideal cleanness at home is essential to me, that's why I always choose your deep cleaning services. Thank you for your assistance.
- Victoria
Our deep cleaning service is charged by the hour and our cleaning teams are available seven days a week. Our services are very flexible and can fit into the tightest budgets, but the quality of the services is nothing than perfect. There isn't a job too big or too hard for our cleaners – we can handle the biggest properties and the biggest messes so don't hesitate to contact us.
Deep Cleaning Hampstead
Hampstead is a wonderful city in the north western region of Inner London next to the Charing Cross. This is one of the best places in London as it is the best hang out for almost all kind of people. This lovely land has the room for intellectuals, artists, musicians and literary associates. Apart from this it opens you the huge, hilly region of parkland of Hampstead Health.
There are quite many cultural attractions, which attracts tourists from all parts of the world. This not only helps to add to the revenue, but invokes the feel of pride and legacy in the mind of the natives of Hampstead.
Freud museum, Fenton house, burgh house, Kenwood house, Isokon Building, Keats house , Camden Arts centre etc are some of the greatest attractions of Hampstead. It is said that Keats completed his famous work "Ode to the Nightingale" from this Keats house. All these monuments will remind you about many such memorable moments in the history.
The vistas of entertainment and attraction in Hampstead are beyond limits. There are many places like the west ponds and the Viaduct in the huge Hampstead health parkland, which refreshes any person reaching there. Once you are into the Hampstead health you have myriads of activities which will rejuvenate both your body and mind.
The activities range from open air musical concerts to poetry reading and fun fairs. You can also find brilliant architectural structures which were once home to many famous personalities including Henry Moore, Walter Gropius and Agatha Christie. All these make Hampstead simply a piece of paradise on earth.