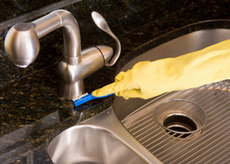 Deep Cleaning is one of those jobs which should be performed by trained and experienced professionals. This is a 100% guarantee that the final result will fully satisfy your cleaning requirements. However, choosing a cleaning company in Highgate, London isn't so easy, despite the fact that you need deep cleaning not more than once per year. We assure you that our team of deep cleaners in Highgate, London can meet your requirements – we pay special attention to every detail and clean every hidden space and appliance.
Many people refer to deep cleaning as spring cleaning and as you know, spring cleaning is a necessity for every home. Deep cleaning involves a number of services – pressure washing, cleaning of skirting boards, windows and window frames, cleaning appliances, de-liming and de-scaling the kitchen and bathroom tiles, etc.
Summing all that up, we can reach to the conclusion that deep cleaning covers every area of the house without any exceptions. Our cleaning agency in Highgate has been offering cleaning service for over 10 years and we can work with residents of the entire London area. By booking our services, you will win yourself a reliable and trustworthy cleaning team which will fulfill your cleaning tasks. Our cleaners are well trained and reference checked, so you don't have to worry about anything!
Clients About us:
I use your deep cleaning services once every month and in this way I manage to keep my place clean and hygienic all the time.
- Jennifer
The employees from this agency did a great job with the deep cleaning of my property. I can recommend their services as the best ones in London.
- Philip
Our deep cleaning service is charged by the hour and our cleaning teams are available seven days a week. Our services are very flexible and can fit into the tightest budgets, but the quality of the services is nothing than perfect. There isn't a job too big or too hard for our cleaners – we can handle the biggest properties and the biggest messes so don't hesitate to contact us.
Deep Cleaning Highgate
Until late Victorian times Highgate was a distinct village outside London, sitting astride the main road to the north. Nowadays the area is well known for one of the most expensive London suburbs to live in. The reason for this are the world famous inhabitants of the district.
Recent and current occupants of Highgate include celebrities such as Pierce Brosnan, Hugh Grant, Geri Halliwell, George Michael, Kate Moss, J. B. Priestley, Rod Stewart and many more. The centre of Highgate village is a main location for numerous large shops, pubs, restaurants and entertainment locations.
The history of the area is not less colourful and interesting than its presence. Back in 19th cetury there was a charity house in Harringay called St Mary Magdalene. It was also a refuge for former prostitutes. The area was also a home for the well known poet and critic Samuel Taylor Coleridge, who moved there, trying to rehab from his strong opium addiction.
The poet lived in Highgate till the end of his life. One of the key characters form Charles Dickens novel, David Copperfield, James Steerforth lives in a house at the top of Highgate West Hill. The cemetery of Highgate, with his Gothic atmosphere, has provided the backdrop to a considerable number of films. It was also a burial place for the writer Karl Marx.