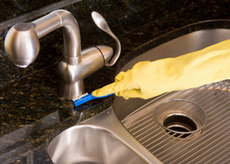 Deep Cleaning is one of those jobs which should be performed by trained and experienced professionals. This is a 100% guarantee that the final result will fully satisfy your cleaning requirements. However, choosing a cleaning company in Kensington, London isn't so easy, despite the fact that you need deep cleaning not more than once per year. We assure you that our team of deep cleaners in Kensington, London can meet your requirements – we pay special attention to every detail and clean every hidden space and appliance.
Many people refer to deep cleaning as spring cleaning and as you know, spring cleaning is a necessity for every home. Deep cleaning involves a number of services – pressure washing, cleaning of skirting boards, windows and window frames, cleaning appliances, de-liming and de-scaling the kitchen and bathroom tiles, etc.
Summing all that up, we can reach to the conclusion that deep cleaning covers every area of the house without any exceptions. Our cleaning agency in Kensington has been offering cleaning service for over 10 years and we can work with residents of the entire London area. By booking our services, you will win yourself a reliable and trustworthy cleaning team which will fulfill your cleaning tasks. Our cleaners are well trained and reference checked, so you don't have to worry about anything!
Clients About us:
There is no better provider of affordable and thorough deep cleaning than this company. I have been a customer for years and the quality has always been excellent.
- Keith
Even if I had the time to clean my home myself, I would still choose your deep cleaning services. Your work is incomparable.
- Beth
Our deep cleaning service is charged by the hour and our cleaning teams are available seven days a week. Our services are very flexible and can fit into the tightest budgets, but the quality of the services is nothing than perfect. There isn't a job too big or too hard for our cleaners – we can handle the biggest properties and the biggest messes so don't hesitate to contact us.
Deep Cleaning Kensington
Kensington is a posh, and densely populated district of central and west London. The main commercial hub of this area is Kensington High Street, which also consists of the famous museum district of South Kensington. The most important area is however, the Kensington High Street with its typically upmarket shops.
In February 2005, it was declared the second best shopping area of London, because of the vast array of commercial enterprises and retail stores. Since October 2008 however, Westfield Shopping Centre at White City has proved to be a worthy rival of Kensington High Street.
This is in general a very prosperous area, a characteristic that Kensington shares with its southern neighbor Chelsea. One can find the most expensive streets of London here, with its well-maintained garden squares such as the Edwardes Square, Earls Terrace, an exquisite rebuilding of Georgian villas along with the The Phillimores and Wycombe Square – all examples of architectural splendour.
South Kensington district lies within the Royal Borough of Kensington and Chelsea in London. Until the mid-19th century, this area was mostly undeveloped servinf primarily as an agricultural region providing fruit and vegetable supplies to London.
The Roof Gardens covering approximately 6000 square metres, cannot be seen from Kensington High Street, although the property may be spotted by the flags on top of the building. This is open for public use, unless there is prior booking for a private party.