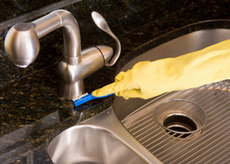 Deep Cleaning is one of those jobs which should be performed by trained and experienced professionals. This is a 100% guarantee that the final result will fully satisfy your cleaning requirements.
However, choosing a cleaning company in Kentish Town, London isn't so easy, despite the fact that you need deep cleaning not more than once per year. We assure you that our team of deep cleaners in Kentish Town, London can meet your requirements – we pay special attention to every detail and clean every hidden space and appliance.
Many people refer to deep cleaning as spring cleaning and as you know, spring cleaning is a necessity for every home. Deep cleaning involves a number of services – pressure washing, cleaning of skirting boards, windows and window frames, cleaning appliances, de-liming and de-scaling the kitchen and bathroom tiles, etc.
Clients About us:
Excellent quality of the deep cleaning procedures! I was absolutely stunned when I saw my apartment after the execution of the services.
- Erin
Every time you deep clean my place, it looks terrific. All of my friends are in love with it.
- Michael
Summing all that up, we can reach to the conclusion that deep cleaning covers every area of the house without any exceptions. Our cleaning agency in Kentish Town has been offering cleaning service for over 10 years and we can work with residents of the entire London area. By booking our services, you will win yourself a reliable and trustworthy cleaning team which will fulfill your cleaning tasks. Our cleaners are well trained and reference checked, so you don't have to worry about anything!
Our deep cleaning service is charged by the hour and our cleaning teams are available seven days a week. Our services are very flexible and can fit into the tightest budgets, but the quality of the services is nothing than perfect. There isn't a job too big or too hard for our cleaners – we can handle the biggest properties and the biggest messes so don't hesitate to contact us.
Deep Cleaning Kentish Town
Located in the northwest area of London Borough of Camden, Kentish Town is historic town that was established somewhere around 1207 AD. This city developed along River Fleet, which is now no longer visible as it flows underground. In the 1800, this area was touched by modernization and lost its rural ambiance. Besides small regions such as Green Street, most of the historic heritage buildings have been lost. In the modern times, this little rural hamlet has grown into a holiday resort, partly due to its close proximity to London. The town is famed for being the chosen residence of Karl Marx during the second half of 19th century.
Kentish town has a very interesting commercial character with a majority number of shops being owned independently. The high street is a potpourri of local stores and shops of international brands. The town is rich in arts and entertainment. The pubs and bars in Kentish Town deserve a special mention as they are extremely charming and in the recent times, have moved back to basics. So, if you want to taste some authentic British ale, Kentish Town is where you can find it.
An interesting place to visit in the town is St. Pancras Public Baths, although most of the interiors are in ruins. A magnificent structure designed by T.W. Aldwinckle, this place is worth a visit. Kentish Town is well connected to London and surrounding areas through an excellent network of road and rail. The pleasant ambiance of the place, along with tremendous shopping opportunities and excellent wining and dining spots, makes it an attractive place to visit.