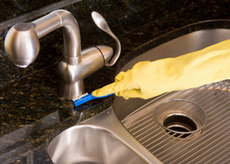 Deep Cleaning is one of those jobs which should be performed by trained and experienced professionals. This is a 100% guarantee that the final result will fully satisfy your cleaning requirements. However, choosing a cleaning company in Southgate, London isn't so easy, despite the fact that you need deep cleaning not more than once per year. We assure you that our team of deep cleaners in Southgate, London can meet your requirements – we pay special attention to every detail and clean every hidden space and appliance.
Many people refer to deep cleaning as spring cleaning and as you know, spring cleaning is a necessity for every home. Deep cleaning involves a number of services – pressure washing, cleaning of skirting boards, windows and window frames, cleaning appliances, de-liming and de-scaling the kitchen and bathroom tiles, etc.
Summing all that up, we can reach to the conclusion that deep cleaning covers every area of the house without any exceptions. Our cleaning agency in Southgate has been offering cleaning service for over 10 years and we can work with residents of the entire London area. By booking our services, you will win yourself a reliable and trustworthy cleaning team which will fulfill your cleaning tasks. Our cleaners are well trained and reference checked, so you don't have to worry about anything!
Clients About us:
I simply want to thank you for my great deep cleaning. Your professional services saved me a lot of time and made my property shining clean.
- Kathleen
Your deep cleaning services were excellent. Thank you so much for taking that obligation off my hands and for making my home sparkling clean.
- Ronald
Our deep cleaning service is charged by the hour and our cleaning teams are available seven days a week. Our services are very flexible and can fit into the tightest budgets, but the quality of the services is nothing than perfect. There isn't a job too big or too hard for our cleaners – we can handle the biggest properties and the biggest messes so don't hesitate to contact us.
Deep Cleaning Southgate
The name of the district remained from ancient times, when Southgate was originally the South Gate of the King's hunting grounds. The development from a small vilage into a one of the most popular London districts, started in 1930s, when the building developed, as well with the increased transport development. This brought also to a population growth as well, as many people moved into the area from the nearby towns.
Yet, being a former village in the past, the Southgate remained as an area with many pubs. The bars are not the most signigican places in Southgate. The districs is famous for the circular Southgate tube station and the variety of shops and restaurants. The station building represents a circular with a flat projecting concrete roof.
For the people looking for a relaxation and leisure, Southgate offers several large green parks, where under the shadowas of the trees people can find the desired escape form the fast running modern life. Another remarkable feature of Southgate is the Christ Church, entirely build of stone. In its grounds stands the Minchenden Oak, concidered as the largest oak tree in England, and perhaps 800 years old.
Local carpet cleaners in SOuthgate, London for your needs. We work all days of the week in order to satisfy your cleaning requirements and make your carpets and rugs sparkling clean.