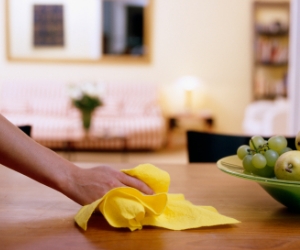 Domestic cleaning is not an easy process, especially if you do it properly – you'll have to spend at least 2-3 hours washing, dusting, vacuuming and mopping and the worst thing is that you'll have to do the same after 2-3 days… This can get rather tedious and we are sure that you are tired of this routine. This is why we provide quality cleaning services at competitive prices in Anerley, London. By booking our services you'll be able to enjoy more free time and have your home cleaned by professionally trained cleaning technicians.
Tenancy Cleaners London is a reputable company in Anerley, London which has been a popular provider of domestic cleaning services for a while. All of our services follow high standards and are carried out by responsible and qualified cleaners. Our cleaning teams are available seven days a week and can service homes in the entire Anerley area. One of the services we offer is domestic cleaning – a multifunctional service which can replace spring cleaning, regular cleaning, after party cleaning and even after builders cleaning.
Our employees have been professionally trained and we have checked their past references. We assure you that you won't find more qualified and trustworthy cleaners than ours.
Clients About us:
My house is so tidy and clean because of your untiring maids. They are more than I expected!
- Rachel
I don't know if I said thank you to your maids who came to clean my house the other day, that's why I'm doing it here. You're great!
- Coleen
The domestic cleaning team will:
Clean living room, bedroom, bathroom, hallway and kitchen
Wipe surfaces
Disinfect tiles, sinks, taps, showers, toilets and bathtubs
Deodorize
Wipe mirrors
Clean doors and windows
Clean radiators, extractor fans, air conditioners and ceiling fans
Vacuum and mop floors
Do the laundry and ironing
Remove litter and spider webs
Mop and vacuum floors
Domestic Cleaning Anerley
One of the districts in South London that is situated in the outer area of London, but boasts of the characteristics of an inner city village is the Anerley district. This district is located on the London Borough of Bromley and is about 8.5 miles south east of Charing Cross. This district was the prior location of The Crystal Place.
Anerley started to undergo development after the construction of a 50 feet road in 1827. In Scottish the word Anerley means "solitary". The district got its name from the first house constructed in this area of the name "Anerley" which was owned by William Sanderson. The Anerley railway station came in to existence on 5th June 1839.
In Anerley residential areas started developing from 1860s. With the installation of Anerley town hall in 1878 it became the centre of public activities. In 1965 Anerely became a part of London Borough of Bromley. Anerley experienced extensive damage during World War II. Poet Walter de la Mare, the author of ghost stories lives in Anerley during 1920's.
Anerley has a railway station and is connected to different areas through bus services. Anerley had tram ways till 1959 and this mode of transportation was later replaced by buses. The A roads namely A 213 and A214 pass through Anerley. The postcode of this district is SE 20. Anerley has the oldest bicycle club in UK. At present Anerley has well developed roads. The other places of importance nearest to Anerley include Becknham, Sydenham, Penge, upper and South Norwood.