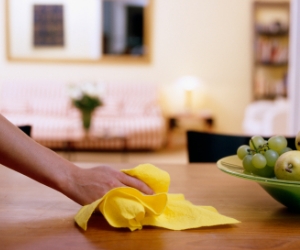 Domestic cleaning is not an easy process, especially if you do it properly – you'll have to spend at least 2-3 hours washing, dusting, vacuuming and mopping and the worst thing is that you'll have to do the same after 2-3 days… This can get rather tedious and we are sure that you are tired of this routine. This is why we provide quality cleaning services at competitive prices in Clapham, London. By booking our services you'll be able to enjoy more free time and have your home cleaned by professionally trained cleaning technicians.
Tenancy Cleaners London is a reputable company in Clapham, London which has been a popular provider of domestic cleaning services for a while. All of our services follow high standards and are carried out by responsible and qualified cleaners. Our cleaning teams are available seven days a week and can service homes in the entire Clapham area. One of the services we offer is domestic cleaning – a multifunctional service which can replace spring cleaning, regular cleaning, after party cleaning and even after builders cleaning.
Our employees have been professionally trained and we have checked their past references. We assure you that you won't find more qualified and trustworthy cleaners than ours.
Clients About us:
I don't know if I said thank you to your maids who came to clean my house the other day, that's why I'm doing it here. You're great!
- Coleen
The rooms in my house are immaculately clean and smell nice after your cleaning maids do the domestic cleaning I order.
- Hayden
The domestic cleaning team in Clapham will:
Clean living room, bedroom, bathroom, hallway and kitchen
Wipe surfaces
Disinfect tiles, sinks, taps, showers, toilets and bathtubs
Deodorize
Wipe mirrors
Clean doors and windows
Clean radiators, extractor fans, air conditioners and ceiling fans
Vacuum and mop floors
Do the laundry and ironing
Remove litter and spider webs
Mop and vacuum floors
Domestic Cleaning Clapham
Located in London South-West, the Clapham district lies in London Borough of Lambeth. It covers postcodes SW4 along with some parts of postcodes SW8, SW9, SW11 and SW12. The population of Clapham, including Stockwell, was 65,513, according to 2001 census.
Brief History of Clapham
Records of Clapham is found in the Anglo-Saxon times. It is believed that the words cloppa(a) _ ham or hamm in Old English is the origin of the name of the area which means Homestead or enclosure near a hill.
Sports in Clapham
The Clapham Rovers F.C. was based in the district. They had won the FA Cup in the year 1880.
Nearest Places in Clapham
The nearest places in and around Clapham are Balham, Battersea, Chelsea, Brixton, Clapham Junction, Stockwell, Tooting, Stockham, Vauxhall and Wandsworth.
Transport Systems in Clapham
There are basically two main railways stations in the district – Clapham High street station and Wandsworth Road station. Clapham Junction is the nearest major rail station of the area. It lies in neighbouring Battersea. The Northern Line of London Underground runs through the neighbourhood. It has three stations – Clapham North station, Clapham Common station and Clapham South station. The Clapham North station originally opened as Clapham Road, but in 1926 it was changed to the current name.