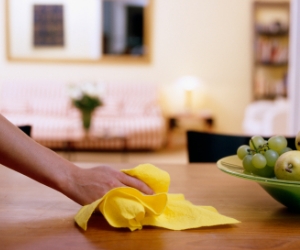 Domestic cleaning is not an easy process, especially if you do it properly – you'll have to spend at least 2-3 hours washing, dusting, vacuuming and mopping and the worst thing is that you'll have to do the same after 2-3 days… This can get rather tedious and we are sure that you are tired of this routine. This is why we provide quality cleaning services at competitive prices in Fitzrovia, London. By booking our services you'll be able to enjoy more free time and have your home cleaned by professionally trained cleaning technicians.
Tenancy Cleaners London is a reputable company in Fitzrovia, London which has been a popular provider of domestic cleaning services for a while. All of our services follow high standards and are carried out by responsible and qualified cleaners. Our cleaning teams are available seven days a week and can service homes in the entire Fitzrovia area. One of the services we offer is domestic cleaning – a multifunctional service which can replace spring cleaning, regular cleaning, after party cleaning and even after builders cleaning.
Our employees have been professionally trained and we have checked their past references. We assure you that you won't find more qualified and trustworthy cleaners than ours.
Clients About us:
I've needed a domestic cleaning service for months and I feel so lucky I stumbled upon you. You are awesome!
- Clara
Thanks a lot for your domestic cleaning service. You are an amazing company.
- Sandra
The domestic cleaning team will:
Clean living room, bedroom, bathroom, hallway and kitchen
Wipe surfaces
Disinfect tiles, sinks, taps, showers, toilets and bathtubs
Deodorize
Wipe mirrors
Clean doors and windows
Clean radiators, extractor fans, air conditioners and ceiling fans
Vacuum and mop floors
Do the laundry and ironing
Remove litter and spider webs
Mop and vacuum floors
Domestic Cleaning Fitzrovia
Situated between Euston Road in the north, Oxford Street in the south, Gower Street in the east and Great Portland Street in the west, a large part of Fitzrovia was planned and developed by small landowners, because of which the area is marked by rather narrow and irregular streets, which seem incongruous when compared to the neighbouring areas like Marylebone and Bloomsbury.
Since the latter districts were dominated by not more than one or two landowners, the streets are better planned, with more scientific grid patterns, and a larger number of squares.
Another major road in central London, UK, is Tottenham Court Road. This area, across which the road runs, is said to have belonged to the Dean and Chapter of St.Paul's Cathedral, according to the Domesday Book. During the reign of King Henry III, a manor house that stood approximately north-west of the corner of present day Tottenham Court Road and Oxford Street, belonged to a gentleman named William de Tottenhall.
This is a well known shopping area in London, particularly famous for the larger number of shops selling electronic goods. These shops sell a wide range of products from cables and computer accessories, to computer hardware and audio-visual devices. Further north of Tottenham Court Road, are a number of furniture stores, including one named 'Habitat and Heals'. This road became particularly notable in 2001, after the opening of the first branch of Spearmint Rhino – a chain of lap-dancing clubs.
The Fitzrovia Neighbourhood Centre, is an active hub of community service, serving as a meeting place for a number of volunteer groups. It also houses the Fitzrovia News, a quarterly published by volunteers from the residential parts of this area.