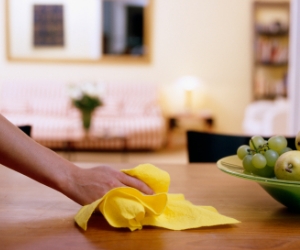 Domestic cleaning is not an easy process, especially if you do it properly – you'll have to spend at least 2-3 hours washing, dusting, vacuuming and mopping and the worst thing is that you'll have to do the same after 2-3 days… This can get rather tedious and we are sure that you are tired of this routine. This is why we provide quality cleaning services at competitive prices in Hammersmith, London. By booking our services you'll be able to enjoy more free time and have your home cleaned by professionally trained cleaning technicians.
Tenancy Cleaners London is a reputable company in Hammersmith, London which has been a popular provider of domestic cleaning services for a while. All of our services follow high standards and are carried out by responsible and qualified cleaners. Our cleaning teams are available seven days a week and can service homes in the entire Hammersmith area. One of the services we offer is domestic cleaning – a multifunctional service which can replace spring cleaning, regular cleaning, after party cleaning and even after builders cleaning.
Our employees have been professionally trained and we have checked their past references. We assure you that you won't find more qualified and trustworthy cleaners than ours.
Clients About us:
Thanks a lot for your service. Your maids were very devoted to what they were doing.
- Cynthia
You, fellows, have one of the best maids I've ever seen! They work very precisely and methodically.
- Gloria
The domestic cleaning team will:
Clean living room, bedroom, bathroom, hallway and kitchen
Wipe surfaces
Disinfect tiles, sinks, taps, showers, toilets and bathtubs
Deodorize
Wipe mirrors
Clean doors and windows
Clean radiators, extractor fans, air conditioners and ceiling fans
Vacuum and mop floors
Do the laundry and ironing
Remove litter and spider webs
Mop and vacuum floors
Domestic Cleaning Hammersmith
Hammersmith lies between Shepherds Bush in the north, Kensington in the east, Fulham in the south and Chiswick in the west. It is connected to Barnes in the southwest by the Hammersmith Bridge. This area has been, for the last few years, the main residential area fof London's Polish minority. Apart from the pubs and cinema halls on King Street, a lot of recreational ativities take place along the Hammersmith riverside, which is open only to pedestrians. This is home to a number of pubs, rowing clubs and also the riverside park called Furnival Gardens.
The area has a large municipal park located in the west of centre. This is called the Ravenscourt Park, and its facilities include tennis, basketball, bowling, paddling pools, and playgrounds. This whole area falls within the W6 postal district of the Hammersmith town centre.
The Hammersmith Bridge across the Thames in west London is a suspension bridge, which has undergone a number of architectural problems, and has therefore been closed on a number of occasions. These were caused mainly by the weight and volume of the inner London traffic, which often proved to be too much for the bridge.
This bridge was repaired in 1973, and refortified with steel trusses, better mid-span hangers and new deck expansion joints. Stronger deck timbers were placed and the surface was changed from wooden blocks to coated plywood panels. These panels were once again replaced in 1987.
Ravenscourt Park, a 20.5 acre public park and garden located in Hammersmith has its origins in the medieval estate of Palingswick Manor, which was situated on the site as early as the 12th century. This historical name is still in use today, and is known by the Paddenswick Road which passes through the northeast boundary of the park.