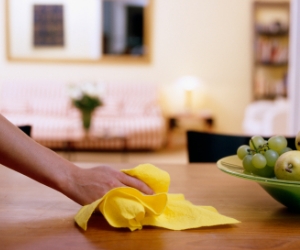 Domestic cleaning is not an easy process, especially if you do it properly – you'll have to spend at least 2-3 hours washing, dusting, vacuuming and mopping and the worst thing is that you'll have to do the same after 2-3 days… This can get rather tedious and we are sure that you are tired of this routine. This is why we provide quality cleaning services at competitive prices in Highbury, London. By booking our services you'll be able to enjoy more free time and have your home cleaned by professionally trained cleaning technicians.
Tenancy Cleaners London is a reputable company in Highbury, London which has been a popular provider of domestic cleaning services for a while. All of our services follow high standards and are carried out by responsible and qualified cleaners. Our cleaning teams are available seven days a week and can service homes in the entire Highbury area. One of the services we offer is domestic cleaning – a multifunctional service which can replace spring cleaning, regular cleaning, after party cleaning and even after builders cleaning.
Our employees have been professionally trained and we have checked their past references. We assure you that you won't find more qualified and trustworthy cleaners than ours.
Clients About us:
I was looking for a domestic cleaning company and that's how I met you. I'm grateful for what you do for me.
- Ross
You definitely know what you're doing. Every room in my house smells and looks good, so tidy and so sparkly clean!
- Sandra
The domestic cleaning team will:
Clean living room, bedroom, bathroom, hallway and kitchen
Wipe surfaces
Disinfect tiles, sinks, taps, showers, toilets and bathtubs
Deodorize
Wipe mirrors
Clean doors and windows
Clean radiators, extractor fans, air conditioners and ceiling fans
Vacuum and mop floors
Do the laundry and ironing
Remove litter and spider webs
Mop and vacuum floors
Domestic Cleaning Highbury
Highbury is an area with a solid history. Today it is better known as Islington. Highbury was a part of Tolentone, which is mentioned in the famous Domesday Book. The last one is the record of the great survey of England and parts of Wales completed in 1086. The area takes its original name in relation to a specific occasion.
A new manor house was build in 1271 on a hill called Highbury. The house was used by a Roman garrison as a summer camp. The area is also famous the importance of its society events. They exist since 1854 such as annual balls. In 1865 there was already a huge dancing platform, a theatre, high – wire arts, pantomime, music hall and the original at that time Siamese twins.
This trend has developed in the future. The area was a home to different recording studios. These studios were built in 1890. Originally the idea was to create a music conservatory. Afterwards has turned into a recording and film studios. Highbury is also popular with its Arsenal Stadium. The population of Highbury is about 22,000. 40% of the area residents are owner.
Please contact us now if you need professional domestic cleaning services in the area of Highbury, London.