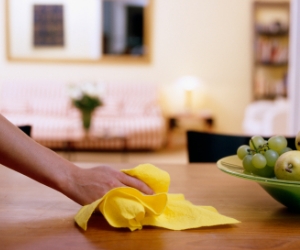 Domestic cleaning is not an easy process, especially if you do it properly – you'll have to spend at least 2-3 hours washing, dusting, vacuuming and mopping and the worst thing is that you'll have to do the same after 2-3 days… This can get rather tedious and we are sure that you are tired of this routine. This is why we provide quality cleaning services at competitive prices in Highgate, London. By booking our services you'll be able to enjoy more free time and have your home cleaned by professionally trained cleaning technicians.
Tenancy Cleaners London is a reputable company in Highgate, London which has been a popular provider of domestic cleaning services for a while. All of our services follow high standards and are carried out by responsible and qualified cleaners. Our cleaning teams are available seven days a week and can service homes in the entire Highgate area. One of the services we offer is domestic cleaning – a multifunctional service which can replace spring cleaning, regular cleaning, after party cleaning and even after builders cleaning.
Our employees have been professionally trained and we have checked their past references. We assure you that you won't find more qualified and trustworthy cleaners than ours.
Clients About us:
Your domestic cleaning is the best I have had in my house. All the rooms are nicely scented and impeccably clean.
- Abigail
No matter if it's winter or summer, your domestic cleaning service is always punctual and thorough. Thank you!
- Patricia
The domestic cleaning team will:
Clean living room, bedroom, bathroom, hallway and kitchen
Wipe surfaces
Disinfect tiles, sinks, taps, showers, toilets and bathtubs
Deodorize
Wipe mirrors
Clean doors and windows
Clean radiators, extractor fans, air conditioners and ceiling fans
Vacuum and mop floors
Do the laundry and ironing
Remove litter and spider webs
Mop and vacuum floors
Domestic Cleaning Highgate
Until late Victorian times Highgate was a distinct village outside London, sitting astride the main road to the north. Nowadays the area is well known for one of the most expensive London suburbs to live in. The reason for this are the world famous inhabitants of the district.
Recent and current occupants of Highgate include celebrities such as Pierce Brosnan, Hugh Grant, Geri Halliwell, George Michael, Kate Moss, J. B. Priestley, Rod Stewart and many more. The centre of Highgate village is a main location for numerous large shops, pubs, restaurants and entertainment locations.
The history of the area is not less colourful and interesting than its presence. Back in 19th cetury there was a charity house in Harringay called St Mary Magdalene. It was also a refuge for former prostitutes. The area was also a home for the well known poet and critic Samuel Taylor Coleridge, who moved there, trying to rehab from his strong opium addiction.
The poet lived in Highgate till the end of his life. One of the key characters form Charles Dickens novel, David Copperfield, James Steerforth lives in a house at the top of Highgate West Hill. The cemetery of Highgate, with his Gothic atmosphere, has provided the backdrop to a considerable number of films. It was also a burial place for the writer Karl Marx.