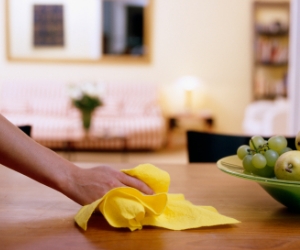 Nowadays, many people want to have more free time which they could spend with their family or friends, but sadly, this isn't always possible. We have to worry about careers, daily chores and many other things which consume a lot of time. One of the daily tasks which take the longest is certainly, domestic cleaning.
Cleaning your own home may not seem like a time-consuming task, but it actually is and if you find a way to avoid it, you'll have more free time. This is now possible, thanks to the professional domestic cleaners which our cleaning agency offers in South East London. We at Tenancy Cleaners London value our customers and will do our best to satisfy their needs.
Our domestic cleaning service can be booked on a regular basis or as an one-off cleaning. We guarantee that you will love the results which our cleaners achieve. We work with some of the best cleaning technicians in London. Our staff is professionally trained and has been in this business for a while, so they are quite familiar with home cleaning.
Our service involves many tasks: washing doors and windows, mopping and vacuuming floors, cleaning the bathroom, wiping mirrors, cleaning wardrobes, cupboards, cabinets, cleaning the oven, freezer, refrigerator and other kitchen appliances, dusting, deodorizing, laundry, ironing, cleaning air conditioners and ceiling fans and more.
The list is huge and it covers every area of your home. You can also inform us if you want something specifically cleaned. Don't hesitate to contact us and ask our support staff for more information about our services.