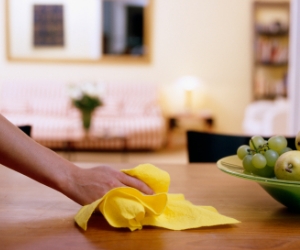 Domestic cleaning is not an easy process, especially if you do it properly – you'll have to spend at least 2-3 hours washing, dusting, vacuuming and mopping and the worst thing is that you'll have to do the same after 2-3 days… This can get rather tedious and we are sure that you are tired of this routine. This is why we provide quality cleaning services at competitive prices in Tottenham, London. By booking our services you'll be able to enjoy more free time and have your home cleaned by professionally trained cleaning technicians.
Tenancy Cleaners London is a reputable company in Tottenham, London which has been a popular provider of domestic cleaning services for a while. All of our services follow high standards and are carried out by responsible and qualified cleaners. Our cleaning teams are available seven days a week and can service homes in the entire Tottenham area. One of the services we offer is domestic cleaning – a multifunctional service which can replace spring cleaning, regular cleaning, after party cleaning and even after builders cleaning.
Our employees have been professionally trained and we have checked their past references. We assure you that you won't find more qualified and trustworthy cleaners than ours.
Clients About us:
Your domestic cleaning service is first class. I was convinced of this when I booked one session last month. Thank you!
- Dora
My house is so tidy and clean because of your untiring maids. They are more than I expected!
- Rachel
The domestic cleaning team will:
Clean living room, bedroom, bathroom, hallway and kitchen
Wipe surfaces
Disinfect tiles, sinks, taps, showers, toilets and bathtubs
Deodorize
Wipe mirrors
Clean doors and windows
Clean radiators, extractor fans, air conditioners and ceiling fans
Vacuum and mop floors
Do the laundry and ironing
Remove litter and spider webs
Mop and vacuum floors
Domestic Cleaning Tottenham
Tottenham is an area of London, situated in the north east part of the city. The area is well known as one of the most multicultural part of London and of England in general. The many ethnic groups, inhabiting the area, represent a colorful mixture between African-Caribbean, Turkish, Kurdish, Somali, Irish etc. people.
The African-Caribbean population is among the ealiest immingrant groups, inhabited the area and also amonth the first immigrants setteled in UK in general. The different races are located mainly in South Tottenham, where up to 300 languages are spoken by its residents.
A negative tendence occures in relation to the emoployment rate. Tottenham has the highest unemployment rate in whole London and one of the highest poverty rates within the country. In relation to the crime rates, Tottenham is well known for being one of the main occasions of roits, gangs and gun crimes in the United Kingdom during the past three decades.
Tottenham is yet not only well know for its negative fiatures, but also as the "home" of the world known football clob – Tottenham Hotspur. This is one of England's most successful club sides, with numerous of trofeys from some of the most importaint football events, such as FA Cup, UEFA Cup, Football League Cup, etc.