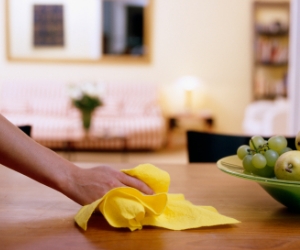 Domestic cleaning is not an easy process, especially if you do it properly – you'll have to spend at least 2-3 hours washing, dusting, vacuuming and mopping and the worst thing is that you'll have to do the same after 2-3 days… This can get rather tedious and we are sure that you are tired of this routine. This is why we provide quality cleaning services at competitive prices in Woolwich, London. By booking our services you'll be able to enjoy more free time and have your home cleaned by professionally trained cleaning technicians.
Tenancy Cleaners London is a reputable company in Woolwich, London which has been a popular provider of domestic cleaning services for a while. All of our services follow high standards and are carried out by responsible and qualified cleaners. Our cleaning teams are available seven days a week and can service homes in the entire Woolwich area. One of the services we offer is domestic cleaning – a multifunctional service which can replace spring cleaning, regular cleaning, after party cleaning and even after builders cleaning.
Our employees have been professionally trained and we have checked their past references. We assure you that you won't find more qualified and trustworthy cleaners than ours.
Clients About us:
Thanks for the lovely and on-time domestic cleaning service you provided.
- Samuel
It's never too late to order a domestic cleaning service. Yours turned out to be a great choice.
- Michael
The domestic cleaning team will:
Clean living room, bedroom, bathroom, hallway and kitchen
Wipe surfaces
Disinfect tiles, sinks, taps, showers, toilets and bathtubs
Deodorize
Wipe mirrors
Clean doors and windows
Clean radiators, extractor fans, air conditioners and ceiling fans
Vacuum and mop floors
Do the laundry and ironing
Remove litter and spider webs
Mop and vacuum floors
Domestic Cleaning Woolwich
Woolwich in South London is considered as one of the major centers in Greater London. This district is located in Royal borough of Greenwich. Woolwich became an industrial and military town during 1500. It was the home of Royal Arsenal in 1471 and the arsenal foot ball club was started here in 1886. Woolwich was made a part o London in 1889. The demography and economy of Woolwich was affected in late 2oth century due to the closure of major employers like Siemens and Royal Arsenal.
The nearest railway stations include the arsenal railway station, Dockyard railway station and Plumstead railway station. The only tube station is the North Greenwich tube station which is connected to Woolwich by bus service. Woolwich is famous for its ferry service that operates across the river Thames. Pedestrians depend on the Woolwich foot tunnel to reach North Woolwich.
Woolwich was the home to the ill- fated auto stacker, the multi- story car park which was opened by Princess Margaret in 1961. This was a failure and got demolished in 1962.
Large- scale redevelopment is happening in Woolwich and a new council office called Woolwich centre was opened in August 2011. Woolwich will be the venue for shooting events I n the 2012 summer Olympics. The first branch of Mc Donald's in UK was started here in 1974. The places of interest includes the Woolwich town hall, the Royal Arsenal, the Woolwich foot tunnel etc. The arts centre at the Woolwich Grand Theatre with its craft market and live entertainment has become the major attraction in Woolwich.